Patagonia´s Fly fishing Zone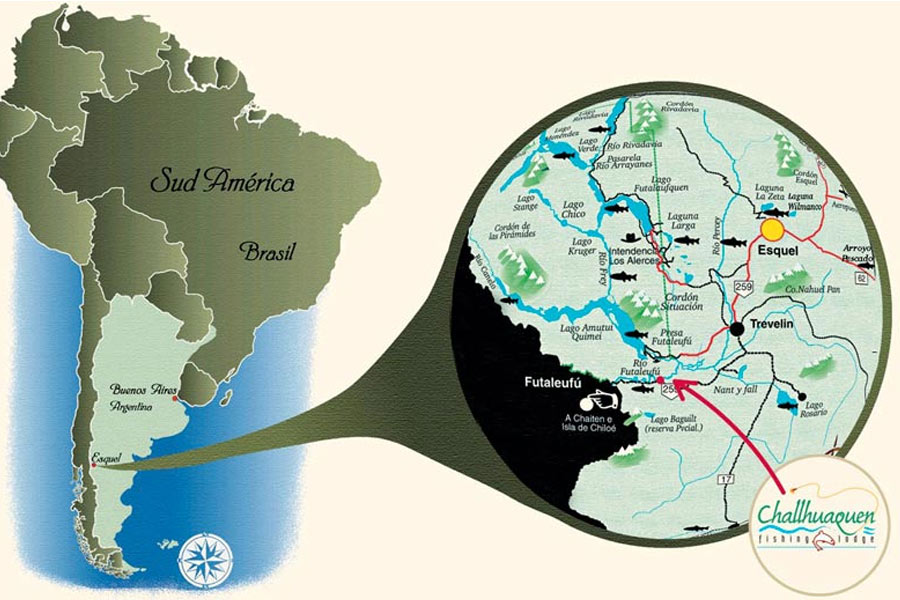 Patagonia´s Central Fly fishing Zone
The salmonidae, whose spawn and young were brought from different countries of the world, found in Argentina excellent habitat conditions, especially all along the Andeans at the mid-west of the country in the Patagonia.
The fly fishing and scenery of Patagonia-Argentina is very similar to the western states in the US, particularly Montana and Wyoming. The mid-summer weather is predominantly dry, hot during the day and cool at night. The rivers are mostly freestone with some spring creeks. Particularly in the spring creeks, the trout rise feverishly during a hatch to mayflies and caddis ranging from size 10 to 20. Otherwise, the most common form of food is the "pancora", a fresh water crab-imitated by a black or olive woolly bugger or similar, size 2,4 or 6 wet fly. The trout of Patagonia (browns, rainbows and brook trout) average 12-20 inch. Intermediate fly fishermen can expect to land trout over 20 inches and experienced anglers have a good chance of landing 5-15 pound trout. Many rivers also contain landlocked salmon, which can exceed 10 pounds.
In addition to the landscape, the appeal of Patagonia is that it offers first class "off-season" fishing (November thru mid April). Here, in Chubut, there are plenty of excellent areas with lakes, rivers, and streams, already known worldwide as good fisheries.
Species
Rainbow Trout (Oncorhynchus Mykiss)
Brown Trout (Salmo Fario)
Brook Trout (Salvelinus Fontinalis)
Landlocked Salmon (Salmo Salar Sebago)
Perch (native specie)

There is much more fishing in Patagonia than describe here but the brief above provides a good sample of the resources available. Ideally, fishing may take at least ten days and preferably two weeks.
---
Fishing Areas
Los Alerces National Park Area
This park was created in 1937, and takes its name from the larch trees over 50 meters high which are the outstanding flora of the region. The Park was created with the goal of protecting this giant specie almost extinct because of the climatic setbacks and temperature of the ground. The Park extension is 263.000 hectares, and it is located 45 miles from Challhuaquen (30 miles southwest from Esquel). This is a world of lakes and rivers surrounded with imposing mountains and glaciers. The watershed is based in 12 lakes and hundred of rivers and streams that together carry their waters to the Pacific Ocean crossing into Chile.
All of these lakes and rivers are outstanding fisheries, and in this specific program, we offer the alternative of fishing the most remote places of the Park, giving a taste of adventure and showing the non traditional fishing spots of the area.
Into the National Park you can fish in many rivers, the best are: Rivadavia, Arrayanes, Menendez, Frey, Desaguadero and Carrileufu. Our favorite river is the Rivadavia. Only 6 miles long and absolutely packed with fish, an average day on this river can produce about 30 fishes, a third of which will be over 20 inches and all of them the hottest fish you'll find anywhere. We float this river from Lago Rivadavia to Lago Verde.
Fishing is a mix of dry fly, wet fly and nymph fishing. Each year we catch a few browns and rainbows over 10 pounds. We fish from the boat at the headwaters and wade the productive pools and runs downstream. The Rivadavia has a tributary spring creek, called "el canal", where conditioned 5-10 pound rainbows and browns will rise to sip a size 18 black gnat!. The catch rate on this creek isn't high (about 2 fish per day), but few of these trout are under 5 pounds.
---
Fishing Areas